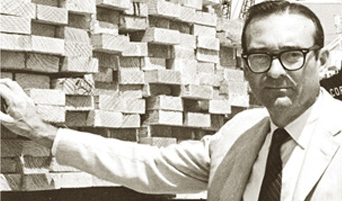 From Buddy Klumb:
"My family has been in the lumber business so long, it has seeped into my bloodstream. My grandfather arrived in Mississippi in 1899 where he worked for a company building sawmills. Back then, folks cut timber to fuel the construction growth up north. "With a love of lumber, my father, Roy, followed in his dad's footsteps cutting virgin timber across the South, moving whenever needed. At least until his wife Oma, my mother, put her foot down and said, 'It's time to settle down, Roy, and I think this is the place for us.'
So, in 1945, my father pulled together $10,000 and established Klumb Forest Products In Crystal Springs, MS. There were three employees. I always hung around the yard and as soon as I was old enough I started working fulltime in sales – getting to know the customer, what he wanted, what I could do to help him, and how I could help his business.
"When I took over Klumb Forest Products from my father, I was excited that my children were interested in being part of the company. They must have lumber in their DNA, too. In key positions today, they represent the third generation – and our future. "I learned from my father and share with my children the keys to our success: be fiscally conservative, extend credit to your customers and, above all, do what you need to do to help them build their business. Customer service is paramount. "We are a family-owned business with simple, honest, old-fashioned values. I hope we have the opportunity to work with you."
In 2017, Klumb Forest Products was acquired by ECMD, Inc. ECMD began in 1982 as a distributor of finely crafted millwork. In an area renowned for skilled craftsmanship, ECMD's founders knew the reputation of their new company had to live up to its North Carolina heritage. And, it has. With sweat, pride and integrity, ECMD is now focused on maintaining the same passion and heritage of the Klumb family.
With a foundation of traditional craftsmanship, ECMD has taken this expertise and combined it with state-of-the-art technology and a unique streamlined supply chain model to offer customers the best products reliably delivered using the most efficient methods.